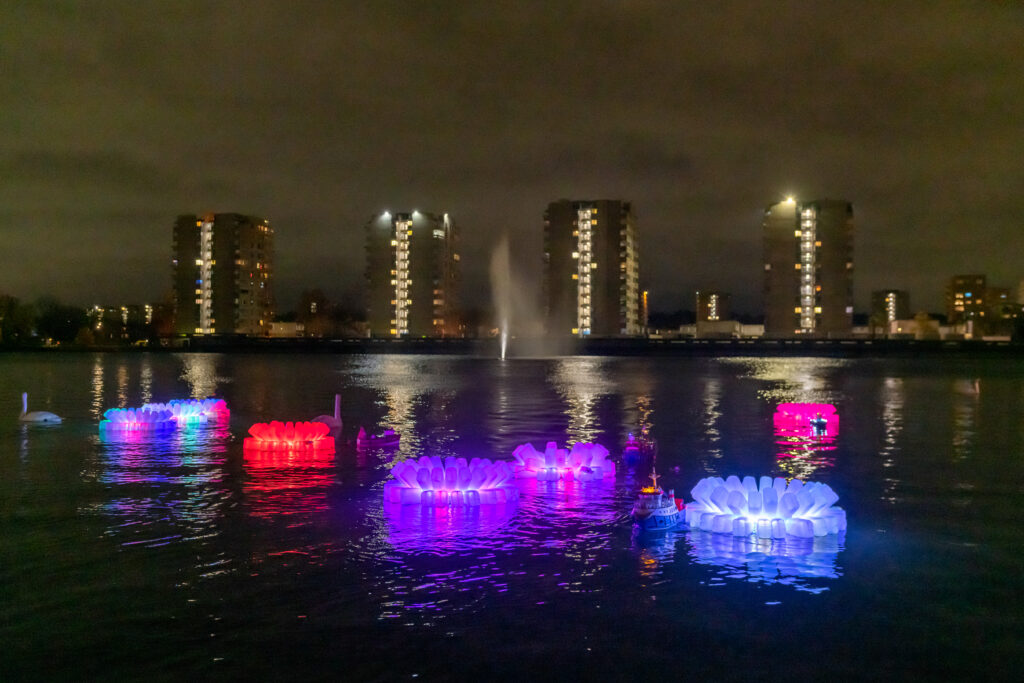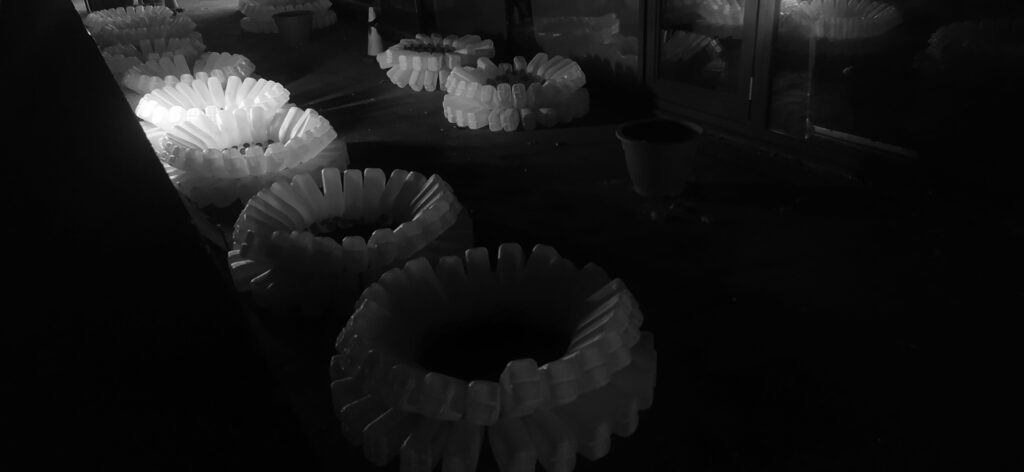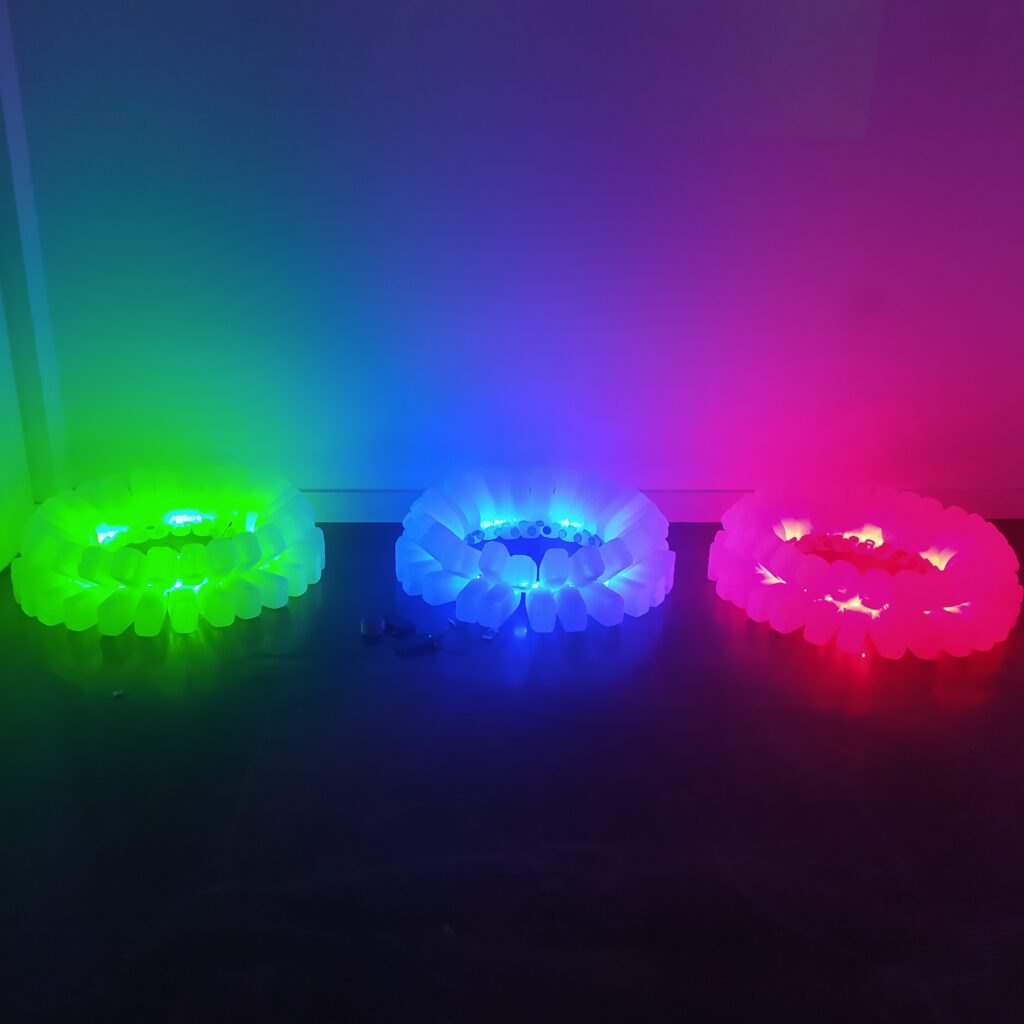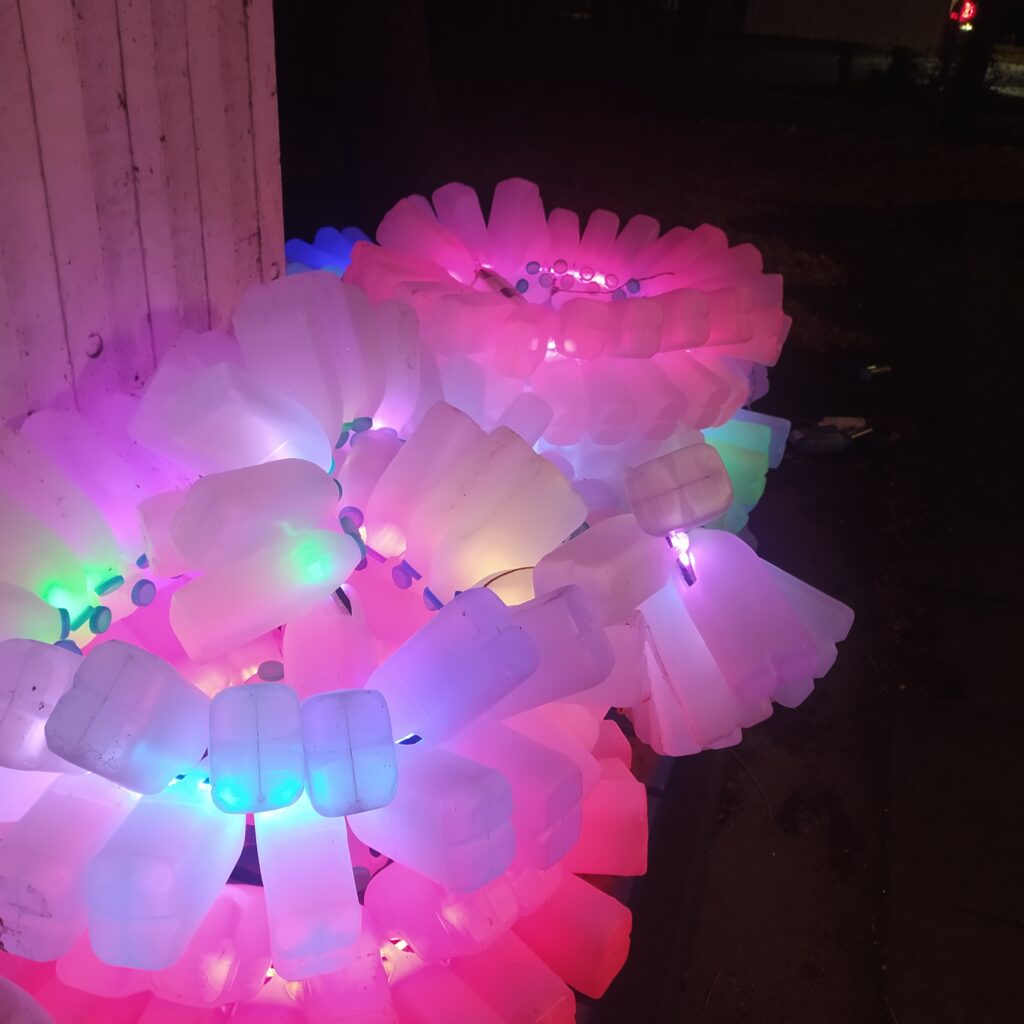 TUG (2021)
in collaboration with Alex Tuckwood and Lisa Cheung
How do you make floating sculptures
out of found objects in the dead of lockdown?
I approached the only place open locally, Greggs.
836 Milk Bottles, 15 Sculptures, 100metres of LED's,
4 RC boats later, we were sailing come
a cold blustery October night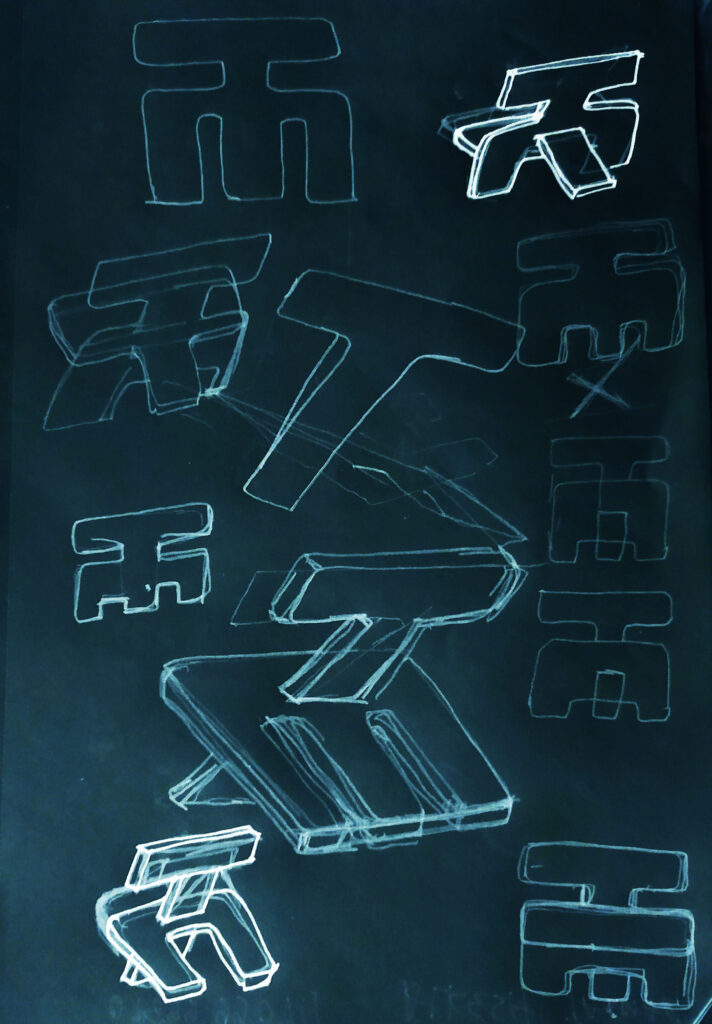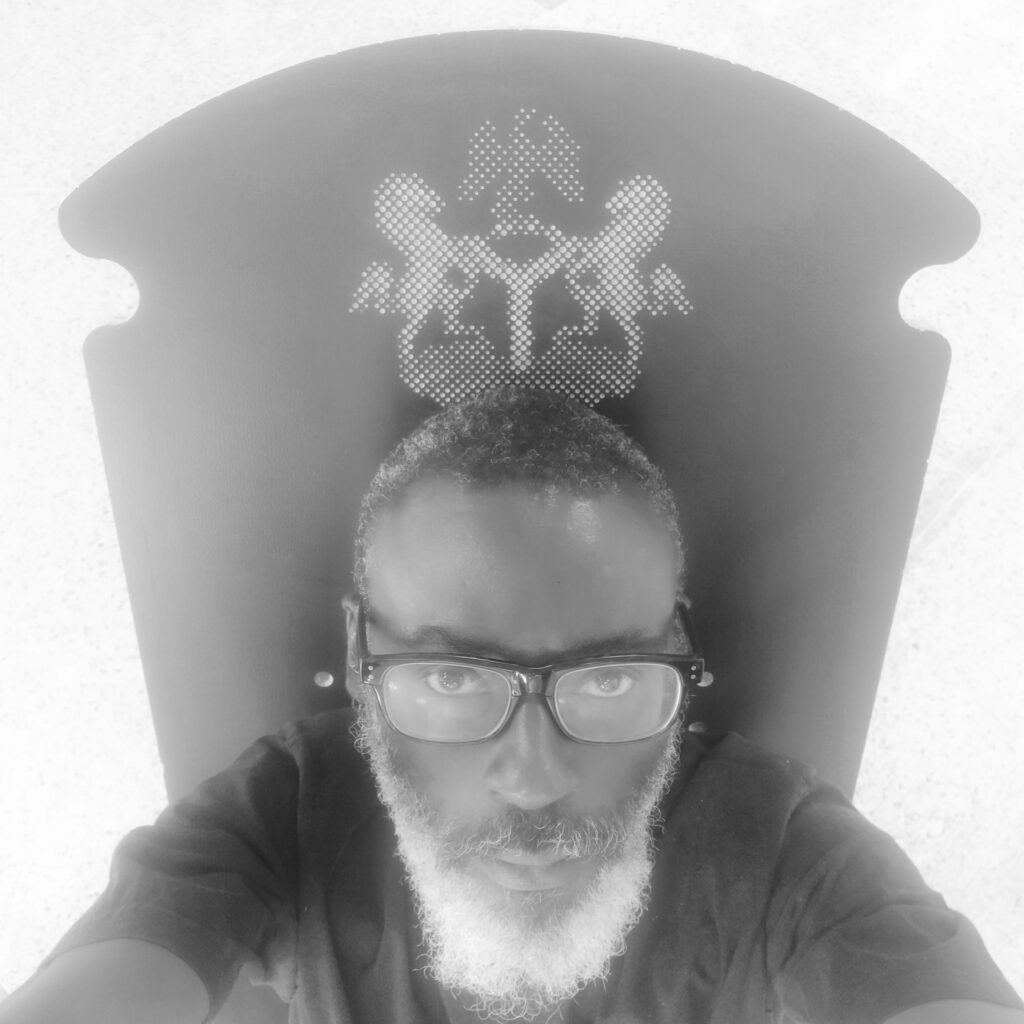 NATIVE CHAIR_DIRECTORS CUT (2021)
African (birthing) chair? Viking Chair? No one knows for sure. It IS two planks of hardwood slotted together to form a strong self supporting chair. The best examples are carved, with openings to keep the sitter cool. This version is part functional, full allegorical. The coat of arms at the top is rendered in half-tone, a symbol of the never dying light of the peoples will, shining out of the darkness. The Nigerian government version, would be coloured green naturally, to match their favourite klepto currency.
Laminated chipboard is not suitable for a chair, but it's Made in China, like much of our economy. That's why it is structurally adjusted. The air holes are approximately 8mm wide, the same size as the bullets the Nigerian Army permanently ventilated the #endsars protestors with. Growing up, our dear leaders (Oga) always addressed us from a lofty perche emblazoned with the coat of arms above their head, directing our affairs one decree at a time.
I was told, as an adult, that these chairs were used by hunters to rest and sleep in. I imagined them around a camp fire, stargazing and sharing stories. When Thamesmead Texas asked for seating to accompany their "Little Nollywood" exhibition – comprising several TV sets all showing Nollywood films, I figured that TV sets were but camp fires, around which people gathered to get news and be entertained.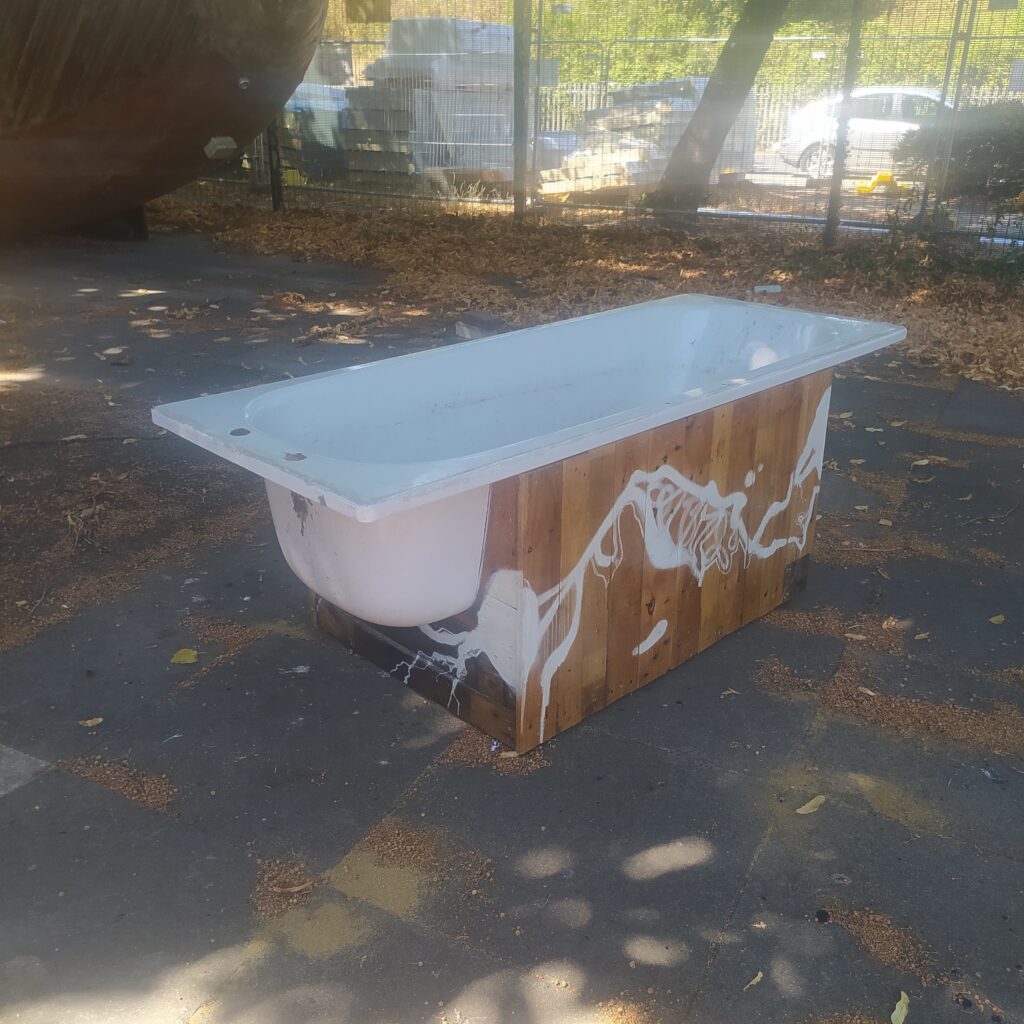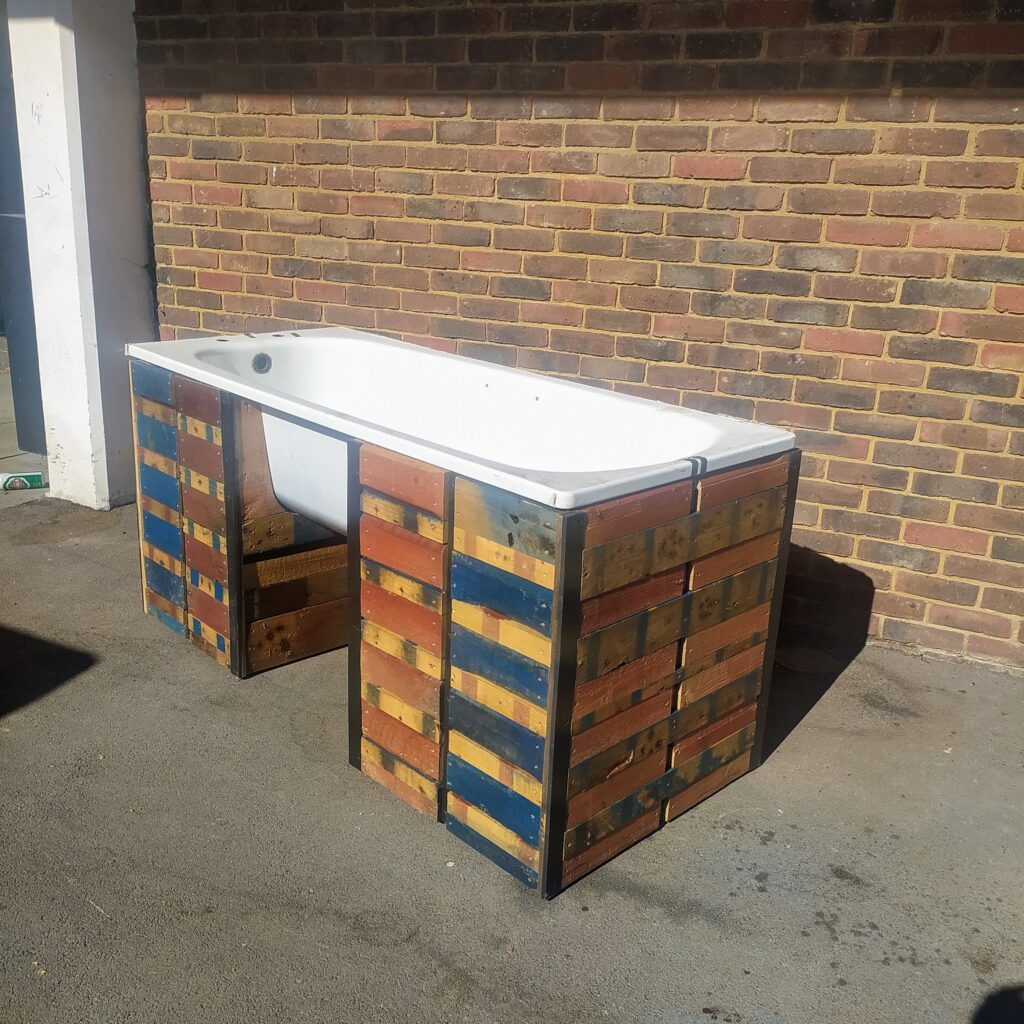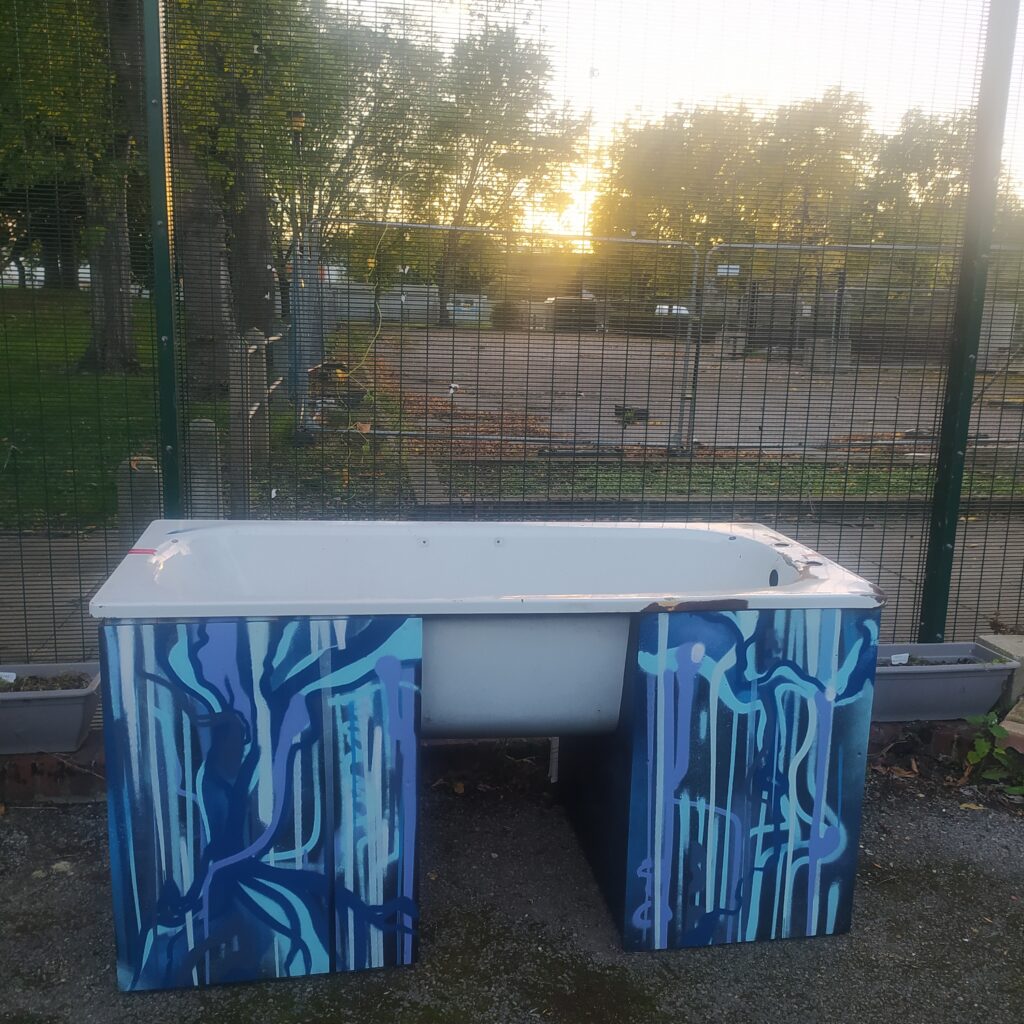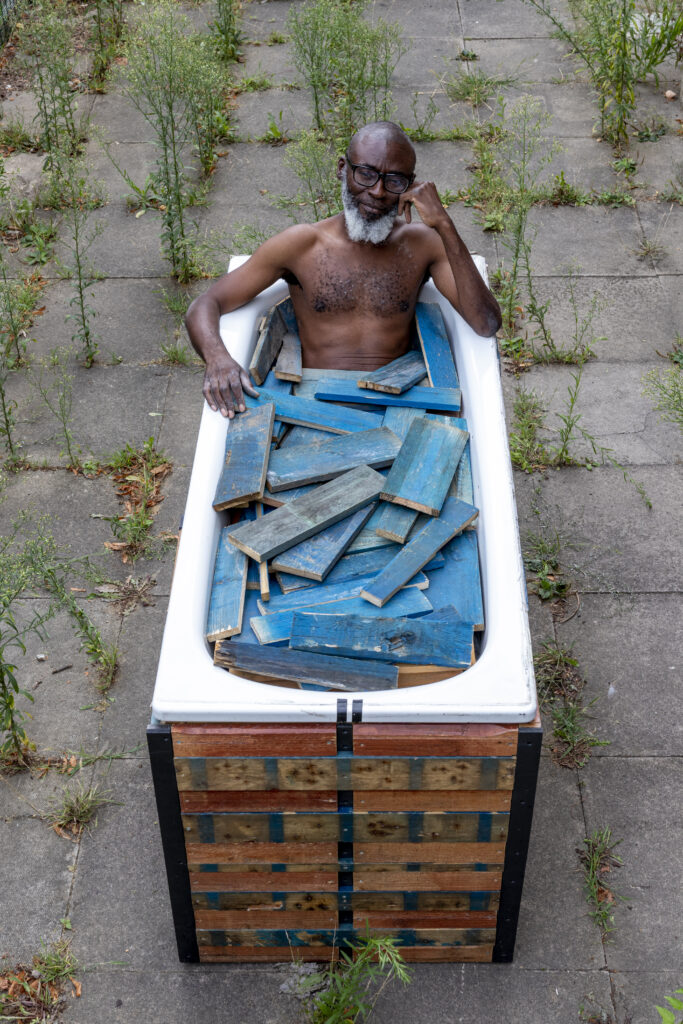 ASO-OKE PLANTUBS (2022)
The palette wood cladding of these salvaged bathtub planters was inspired by Aṣọ – Òkè, (a heritage cloth, woven by the Yoruba people of Nigeria, who, comprise a significant proportion of the residents in the Thamesmead environs), and of which, there are generally 3 kinds:
Sanyan: traditionally comprising a golden brown weave and featuring a stripe (or two or three) of white silk. My response to this was to clad the structure in vertical stripes of reclaimed pallet wood, thus mimicking the hue and assembly of Aso-Oke strips into larger sizes. The signature white embellishments were courtesy of local artist @c.donovanartist

Aalari: the cloth allows the weaver to express themselves in hue, tone and pattern. I took inspiration from the brutalist architecture Thamesmead is famous for, particularly the towers I call home. I composed the arrangement in red, blue and pale brown salvaged pallet wood (in imitation of the Union Jack), and added accents of black salvaged storm board to frame the parts.

Etu: the fabric is named after the guinea fowl because it is traditionally composed of the dark hues of the its plumage: blue and black with white flecks. I clad the structure with salvaged black storm board and @c.donovanartist stepped in once more to bless it accordingly with his art.
As is my wont to do on my projects, there remained the final word about the essence of the art that had been created and which I normally express as a poem, but in this case I chose a sort of performative expression. That is how I came to be lying in a bathtub full of left over blue salvaged palette wood. I was inspired to use them in this manner so that they would at least have served a function: that of helping me describe the deep dive that had been the essence of my work for this project.